Tom Cruise: I couldn't walk for days
Tom Cruise has said he could not walk for days at a time after sprinting on a broken ankle while filming the latest instalment of the Mission: Impossible franchise.
The action star had to halt production on Mission: Impossible – Fallout while he had rehab but resumed filming after just 11 weeks.
Arriving at the UK premiere of the film, he told the Press Association: "It was painful but we had to do it because we had this release date and I promised the studio.
The cast of Mission Impossible – Fallout at the films's UK premiere in London. (Ian West/PA)
"We limited the sprints. I might do 50 takes normally but I just saved it for the day and 90% of the running in the movie I have a broken ankle.
"Afterwards I couldn't walk for days and would have a golf cart to take me to set but you do it, you suck it up and you do it."
The accident happened while filming a chase sequence in London in which he jumps from one building to another.
Cruise said: "I was never supposed to make the jump, I was supposed to hit the wall like that and grab the top of the building.
"I did it twice and I was going so hard into the wall. You see the length I was running, it's a full on sprint all the way, and then I jump across the building and the first two takes I hit so hard I bounced off.
"I thought about it and thought 'I will just touch my right foot just to slow down a little bit so I can grab the side'.
"I put my foot there and I left it there just a touch too long, even less than that.
"You can see me, that's the take, I knew it was broken. I thought 'dammit'. But I thought I would climb up, go and cross camera because I knew there was a camera there and I had to get over the wall so that we could retain the shot."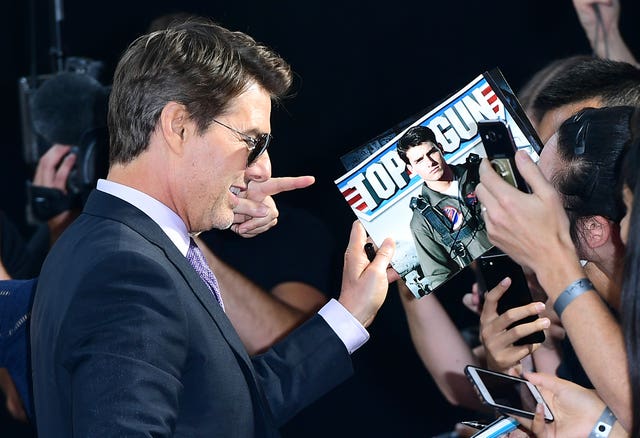 Tom Cruise at the Mission: Impossible – Fallout premiere (Ian West/PA)
However, the accident has not put him off doing his own stunts in future.
He said: "Not at all. I broke it and then had to do the rest of the stunts on that broken ankle.
"I came back 11 weeks later and I was doing all the rest of the sprinting that you see in the movie. Every step I was taking I was thinking 'ow ow ow ow' but if things are easy I'm not that interested."
Mission: Impossible – Fallout is released in UK cinemas on July 25.
You Might Also Like
Tom Cruise: My ankle is still broken but I have to keep going