Rosamund Pike on Marie Colvin role
Rosamund Pike has said she is having "one of the most meaningful moments of my career" with her portrayal of war correspondent Marie Colvin in her new film.
The British star, who was nominated for an Oscar in 2015 for Gone Girl, said she felt a deep responsibility to embody the American journalist, who was killed in Syria in 2012.
She told the Press Association: "I've been so directly involved with Marie's friends and family and realised the fierce love that they have for her and how recently painful her death is and was and I think I want to do right by her.
"Also because I kind of fell in love with Marie, I was introduced to her work before but I had been introduced to her as a woman through this film and I just wanted to give people who were meeting her for the first time through A Private War the chance to see the same woman I saw when I watched footage of her.
Marie Colvin (Joel Ryan/PA)
"I wanted people to feel her and the incendiary power of her words and her fun and her glamour, that is a different kind of glamour, in her commitment and the dark nights of her soul and all the things I discovered I want people to feel and see and so it has been a big responsibility."
Speaking at Bafta's London headquarters, where she was part of the jury deciding the shortlist for the academy's rising star award, she said: "I'm probably having one of the most meaningful moments of my career with this film because I think I took it on very deeply, the responsibility of playing her, and the fact that somehow there is a conversation being generated by the film that is bigger than the film is very, very gratifying because it's what Marie would have wanted.
Proud to announce we've acquired @MattHeineman's extraordinary A PRIVATE WAR, starring Academy Award and @BAFTA nominee Rosamund Pike as Marie Colvin, one of the most celebrated war correspondents of our time.Coming to UK and Irish cinemas in February 2019. pic.twitter.com/Xe8CDC3b8Y

— Altitude (@AltitudeFilms) November 5, 2018
"Marie was never someone who was out for personal glory or to be famous in her own right, although she became so because she was so good at what she did, but she never wanted herself at the centre of the story.
"She wanted people to care and I think that is what I felt about this film.
"You make the film, you care so deeply, will anyone care when it reaches the screen? And they are caring and beyond caring."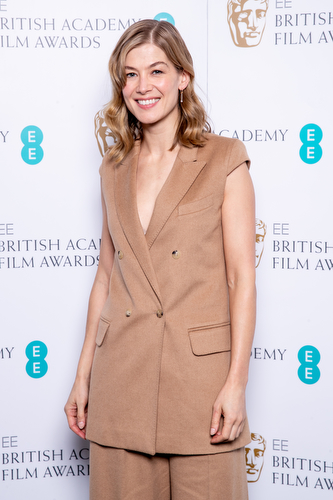 Rosamund Pike (Tom Dymond/Bafta)
Pike said there were many times in preparing for the role that she felt she might not be capable of delivering the performance, saying: "Sometimes it felt very, very far away, the prospect of being able to pull it off.
"Then you work a bit harder and get a bit deeper and then you get a bit closer and you still think it's not close enough and you try again and get a little closer again and then you have another wobble and you ring up your director at two in the morning and say 'I'm never going to do it, I can't do it' and then you get through it and that's the process of transformation."
She added: "I wanted to give an embodiment of Marie that really was Marie, I have a director who has come through a documentary background and I wanted to give him a Marie that he could observe and ruthlessly investigate as if he was making a documentary and that meant being her totally, meaning that every time I felt vulnerable, everything had to be transmitted through her body language, her gestures, her facial expressions, her voice, her laugh.
"It had to be so in me that whatever spontaneously erupted had to be her stuff not mine and that is a daunting challenge to set yourself and I wanted to disappear."
A Private War will be released in the UK in February. The shortlist for the EE Bafta Rising Star award will be announced on January 3, with the winner announced at the film awards on February 10.