Ray Winstone: Hatton Garden heist a 'throwback' crime
Screen hardman Ray Winstone has said the Hatton Garden heist reminds him of an Ealing comedy.
The film King Of Thieves tells the story of the 2015 burglary, a non-violent raid committed by elderly criminals.
Winstone stars alongside veteran actors Sir Michael Caine, Sir Michael Gambon, Jim Broadbent and Sir Tom Courtenay in the newly released crime caper.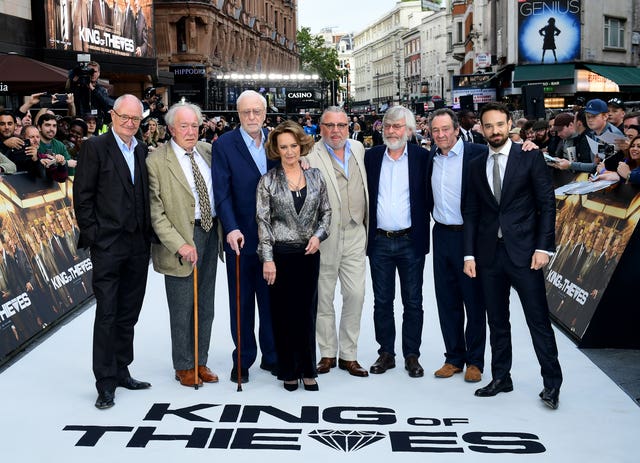 King Of Thieves cast (PA)
London-born Winstone has said the age of the actors – and the criminals they play – gave the film its humour.
"It reminds me a little bit of an old Ealing comedy," said the star at the film's London premiere on September 12.
"This is a story about old age in a way. I think that's great. Being the age we were, that's where the humour came in.
"Ailments, arthritis, having to have a jab in your a**e half way through doing a robbery, one's deaf and he's on the radio – this is fact."
The film depicts the daring burglary of the safe deposit over an Easter holiday, but with Paul Whitehouse in the cast humour is not far from the surface in the film.
Winstone, 61, has said the crime seems from another era.
He said: "It's got that kind of 60s feel to it.
"It's a throwback. It's not a modern crime that they committed. This was an old fashioned blag.
"And it took some bottle to do that."
The star added of the heist: "It's a crime at the end of the day and people got punished for it."