George Clooney criticizes Trump administration
George Clooney warned against "fear of Muslims, immigrants and strong women" he said has been stirred up by Donald Trump's government.
The Hollywood actor, who has been a vocal critic of the US president, said the country will have "history to answer to" if it continues to be "scared" of "what made it great".
Speaking at Variety's Power of Women event in Los Angeles on Friday, Clooney, 57, introduced himself as "Amal Clooney's husband", referencing his human rights lawyer wife, jokingly adding, "I know, I can read this room".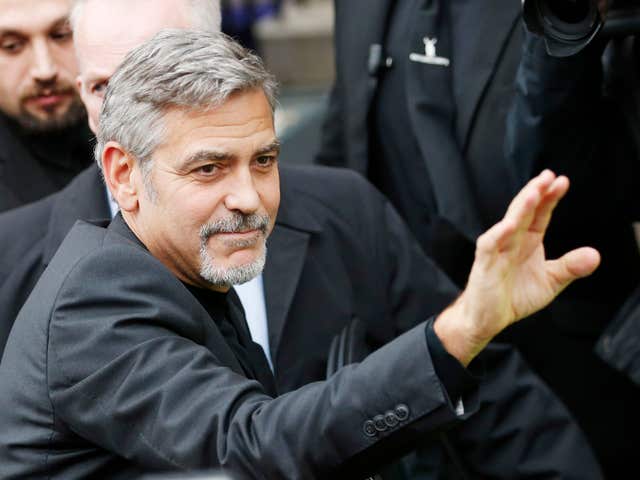 George Clooney criticised Donald Trump during a speech in Los Angeles (Danny Lawson/PA)
He then said Mr Trump's administration had created an environment of fear.
Clooney said: "Fear of Muslims. Fear of immigrants. Fear of minorities. Fear of strong women. And because our government needs us to be afraid, the question is, are we really scared of all the things that actually make America great?
"And if the answer is yes, then we'll have history to answer to. Because these are the ideas that will define us for generations.
"When you call an entire religion your enemy, you might very well make an enemy out of an entire religion. When you tell a whole race of people that you value them less, you can't be surprised when they question your values."
Referring to Mr Trump appearing to joke about the woman who came forward to allege she had been sexually assaulted by his then nominee to the Supreme Court, Brett Kavanaugh, Clooney said voters could get revenge in November's midterm elections.
Donald Trump has frequently clashed with celebrity critics (Niall Carson/PA)
He said: "When you tell women that coming forward to testify about their abuse is a joke, don't be shocked when they're standing on your lawn, laughing on November 7.
"After all the jokes, and insults, and reality show frenzy, what will be remembered, what will stand the test of time, is holding responsible these wolves in wolves' clothing."
Clooney and Mr Trump have clashed in the past. The actor laughed off the businessman's chances of making it to the White House during the early days of his presidential bid.
Mr Trump has been critical of what he calls the "Hollywood elite".