Gary Oldman, Oprah Winfrey win at Golden Globes dominated by harassment scandal
The sexual harassment scandal that has rocked Hollywood dominated a Golden Globes ceremony where Britain and Ireland triumphed with wins in major categories.
Nominees and presenters dressed in black to stand in solidarity with victims of sexual violence, as winners spoke out about abuse in support of the Time's Up campaign for gender equality.
Oprah Winfrey brought the room to its feet as she was given the honorary Cecil B DeMille Award, the first black woman to receive the highest honour at the ceremony.
She told the room she saw a day on the horizon when women never have to say "Me Too" again.
Let @Oprah snatch your entire soul. But after she does, my question remains: Why did it take such calamity and horrific abuse for women to be valued? pic.twitter.com/DRKn0ZkHge

— Jemele Hill (@jemelehill) January 8, 2018
Gary Oldman, Ewan McGregor and Martin McDonagh were the only Brits to triumph at the ceremony, where projects with women at the centre were richly rewarded.
Oldman scored the best actor in a drama prize for his portrayal of Winston Churchill in Darkest Hour, while McGregor won the best actor in a limited TV series for playing twins in Fargo.
Irish actress Saoirse Ronan beat the likes of Dame Judi Dench and Dame Helen Mirren to win the best actress in a comedy film for Lady Bird, which was named best comedy film.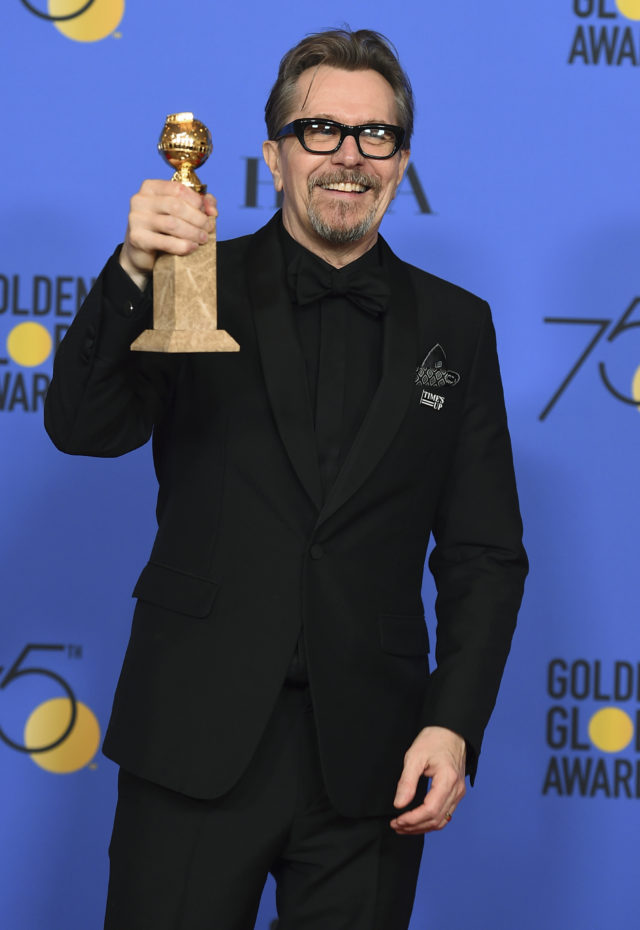 Gary Oldman shows off his Golden Globe (Jordan Strauss/AP)
British-Irish playwright McDonagh won the best screenplay prize for his film Three Billboards Outside Ebbing, Missouri, which was also named best drama film.
Female-centric shows Big Little Lies and The Handmaid's Tale dominated the television categories at the ceremony, which was the first major awards show since the sexual harassment scandal, triggered by allegations against producer Harvey Weinstein, gathered pace.
Laura Dern, from left, Nicole Kidman, Zoe Kravitz, Reese Witherspoon and Shailene Woodley with the award for best television limited TV series for Big Little Lies (Jordan Strauss/Invision/AP)
Big Little Lies was named best limited TV series, while stars Nicole Kidman, Laura Dern and Alexander Skarsgard were all singled out for acting prizes.
Kidman won the first award of the night for best actress in a limited series for TV, for playing domestic violence victim Celeste Wright.
Dressed in black, she dedicated the award to her daughters and cast members – saying "wow, the power of women" – and her mother, who "was an advocate for the women's movement when I was growing up".
"My achievements are her achievements," she added.
She said: "This character that I played represents something that is the centre of our conversation right now – abuse.
"I do believe, and I hope, we can elicit change through the stories we tell and the way we tell them."
The Handmaid's Tale was named best drama series, with its star Elisabeth Moss being named best actress in a drama, defeating The Crown's Claire Foy.
The Marvellous Mrs Maisel won the best comedy series and the star of the Amazon original, Rachel Brosnahan, was named best actress in a comedy.
Sam Rockwell, left, winner of the award for best performance by an actor in a supporting role in any motion picture, and Frances McDormand, winner of the award for best performance by an actress in a motion picture – drama (Jordan Strauss/Invision/AP)
Frances McDormand won the best actress in a drama movie prize for her role as a grieving mother who takes on the local police after they fail to find her daughter's killer in Three Billboards Outside Ebbing, Missouri.
Accepting the award, McDormand said: "I keep my politics private but it was really great to be in this room tonight and to be part of a tectonic shift in our industry's power struggle.
"Trust me, the women in this room tonight are not here for the food, we are here for the work."
Huge congrats to Gary Oldman on his #GoldenGlobes WIN! #DarkestHour pic.twitter.com/ifL3Sh3BTB

— Darkest Hour (@DarkestHour) January 8, 2018
Collecting his best actor in a drama prize, Oldman, who, like McGregor, was also dressed in black with a Time's Up badge, said he was proud of his film because it shows "words and actions can change the world, and boy oh boy does it need some changing".
He beat contender Timothee Chalamet, who was a critical favourite for his portrayal of a young man in the midst of a sexual awakening in Call Me By Your Name.
James Franco won the best actor in a comedy prize for his turn as eccentric filmmaker Tommy Wiseau in The Disaster Artist, about the making of the cult 'bad film' The Room, snatching victory from British hopeful Daniel Kaluuya for Get Out.
Allison Janney poses with the award for best performance by an actress in a supporting role in any motion picture (Jordan Strauss/Invision/AP)
Elsewhere at the ceremony, Allison Janney won the best supporting actress in a movie prize for playing the mother of figure skater Tonya Harding in I, Tonya and Sam Rockwell won the supporting actor prize for Three Billboards Outside Ebbing, Missouri.
Guillermo Del Toro was named best director at the ceremony for his film The Shape Of Water, defeating British hopeful Christopher Nolan for his film Dunkirk.
The category was presented by Natalie Portman, who highlighted the fact no women were included when she said: "Here are the all-male nominees."
Aziz Ansari won the best actor in a TV comedy or musical for Master Of None, while Sterling K Brown won the prize for best actor in a TV drama.