Black Panther passes one billion US dollars at box office
Marvel's Black Panther movie has surpassed one billion US dollars (£794 million) at the global box office.
The film starring British actors Daniel Kaluuya, Letitia Wright and Martin Freeman is the fifth in Disney's Marvel Universe to reach the milestone.
It is based on Disney's estimate of ticket sales and comes on the 26th day of its release.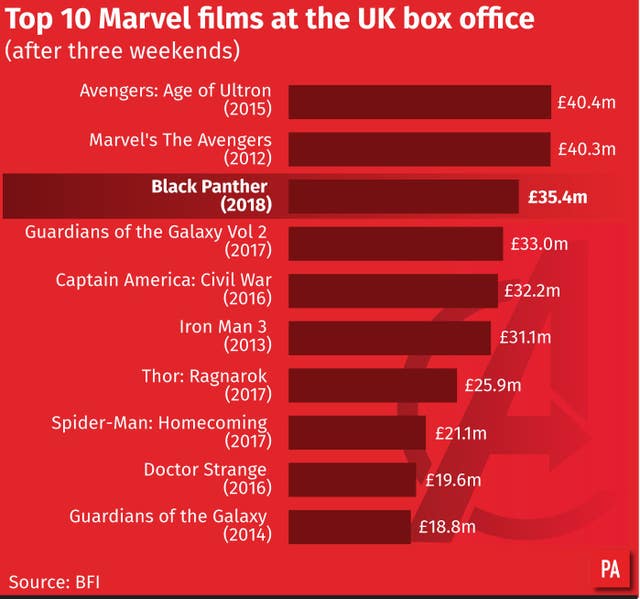 (PA graphics)
Earlier this week UK box office figures revealed it was out-performing superhero flicks Iron Man, Thor and Captain America after taking £35.4 million in its first three weeks.
Only two other Marvel films had taken more money in the UK at this point in their release: 2015's Avengers: Age Of Ultron (£40.4 million) and 2012's The Avengers (£40.3 million).
Press Association analysis of figures from the British Film Institute show Black Panther is also running ahead of both Guardians of the Galaxy films and all three Captain America movies.
Directed by Ryan Coogler, it also stars Chadwick Boseman, Michael B. Jordan and Oscar winner Lupita Nyong'o.
It is the first superhero film with a predominantly black cast, and has been praised by Michelle Obama for its inclusivity.
A total of 18 films set in the Marvel Universe have been released to date, with two more scheduled for later in 2018 – Avengers: Infinity War and Ant-Man And The Wasp.
You Might Also Like
Black Panther becomes most tweeted about film ever

Black Panther takes top prize at Screen Actors Guild Awards