Benedict Cumberbatch makes arts funding plea
The arts industry – one of the UK's "most successful exports" – needs to be fought for and adequately funded, Benedict Cumberbatch has said.
The actor, who received the outstanding achievement award at the South Bank Sky Arts Awards on Sunday, appealed to lawmakers to invest in the "fiscally important" industry.
He told the Press Association: "You've got young artists celebrated here today, breakthrough awards and Stormzy himself – people who are breaking through regardless but at the same time, it's only going to get more and more of a struggle.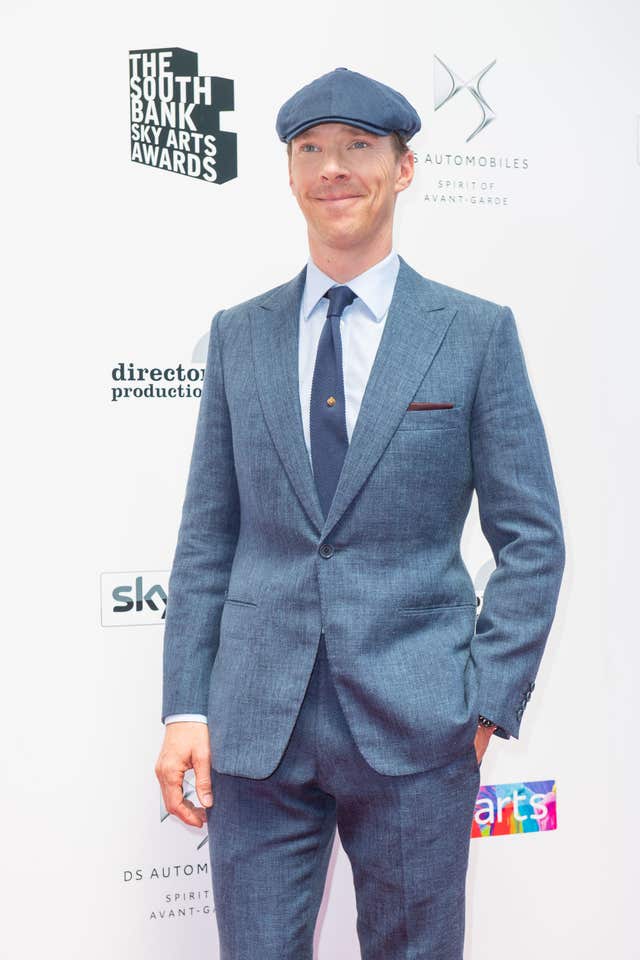 Benedict Cumberbatch arriving for the South Bank Sky Arts Awards at Savoy Hotel, central London (Dominic Lipinski/PA Images)
"We have to keep celebrating arts in their entirety and showing quite how inspiring, fiscally important…I mean, that's an economic fact – it's not an emotive argument – about what we need to be human beings and experience the full richness of the human condition.
He added: "It makes this country a huge amount of revenue, it's one of the most successful exports and we'd do well to remember that at the grassroots to encourage people from all backgrounds and all abilities to find their voice.
"The arts deserve fighting for – we always have to fight for them. Proof that it's worth it is in the pudding that we saw today."
Stormzy took home the pop award for his debut album Gang Signs and Prayer at the show hosted by broadcaster Melvyn Bragg.
Cumberbatch was visibly choked up as he collected the coveted prize at the ceremony in central London, and took the opportunity to thank key figures – including his wife and first English teacher, who contributed to his wildly successful career.
Asked if he thought arts subjects had been neglected in schools by policymakers, he said: "I think we always have to be on our guard for that. It's always one of the first things to go in a time of austerity – people see it as superfluous to public services which, in many ways, obviously, have to take preference. But we lose an investment to our own detriment and it catches up to us culturally.
Melvyn Bragg arriving for the South Bank Sky Arts Awards at Savoy Hotel, central London (Dominic Lipinski/PA Images)
"We just have to be on our guard for it. I'm not a policymaker, but I'm always going to shout out for the people I am now representing as president of a drama school, let alone anything else.
"I want to make that experience less prohibitive so people can have that experience, have that training in the industry to begin their careers and their trade.
"And that's another thing – how to make art inclusive and how can consumption be democratised as well as the participation. I've always felt strongly about those things."
The 41-year-old was coy on speculation about a potential sequel to sci-fi hit Doctor Strange.
"He's just fragmented into nothing so who knows? He might not even make it back to the next film, we'll just have to wait and see."
It follows a recent interview by Cinemablend in which producer and Marvel president Kevin Feige suggested that a follow up to the 2016 film, starring Cumberbatch, could return.