Ashley Judd: I wasn't afraid of Harvey Weinstein so he blackballed me
Ashley Judd has said she believes she was blackballed by Harvey Weinstein because she was not afraid of him.
The Double Jeopardy star, who was among the first women to accuse the movie mogul of sexual harassment, said he sabotaged her career.
Judd has previously said she went to a hotel in 1997 for what she thought was a breakfast meeting with Weinstein.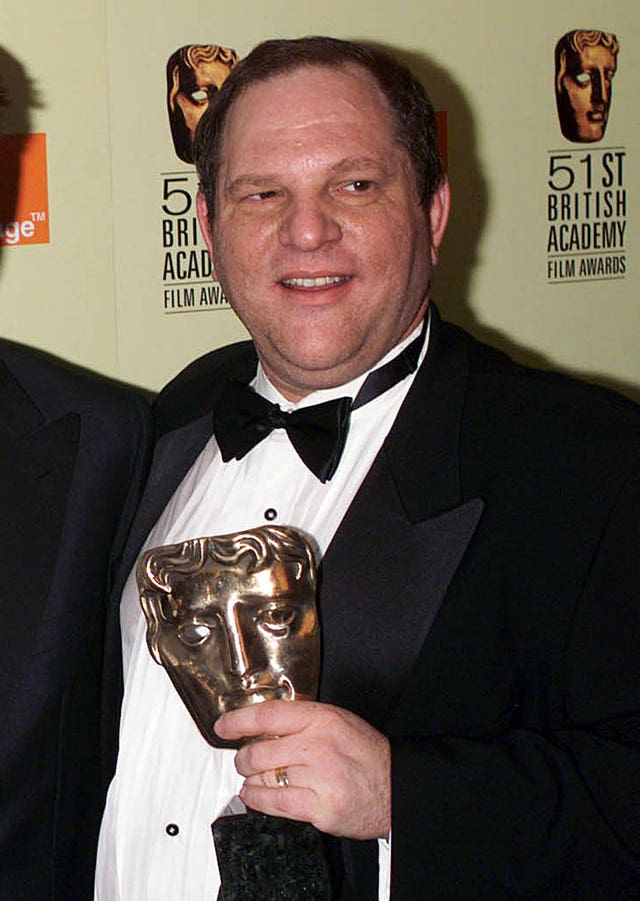 Harvey Weinstein (Toby Melville/PA)
Once in the room, the actress alleged he began pressuring her to give and receive massages and to watch him shower.
In a bid to get out of the bathroom, she said she resorted to striking a deal with him that she would say yes to his advances when she won an Oscar for one of his films.
In a new interview with BBC Hardtalk, Judd said: "I was not frightened of Harvey Weinstein and I think that was why he blackballed me.
Watch HARDtalk's exclusive interview with actor and UN Goodwill Ambassador @AshleyJudd on BBC World on Monday. pic.twitter.com/X9axWbYLE3

— BBC HARDtalk (@BBCHARDtalk) January 12, 2018
"I think that is why he blacklisted me and did unfortunately, as we know now, such a successful job sabotaging my career because he continued to harass me between '97 and '99 and I have other examples and I haven't gone into details because I don't want to give it oxygen."
Weinstein has denied the allegations and accusations from other women of non-consensual sex.
Responding to his denial, Judd said: "He also hasn't denied that he harassed me and in fact he's apologised for it.
"In my particular example, what he said – and this is a direct quote – he 'didn't lay a glove on me', and he didn't, because as you noticed I was able to flee the room.
In #NYC to talk to @AshleyJudd about Weinstein, #metoo and the need for a worldwide conversation. A must-watch @BBCHARDtalk pic.twitter.com/lmrP5Bl1Bc

— stephen sackur (@stephensackur) January 15, 2018
"But he absolutely harassed me. He abused his power and he lorded it over me, this imbalance between us, with vitriol and abusive charm for two years.
"I would bump into him at the hotel, at different events and he was always 'wink wink, I'm going to find that great part for you' and at the premiere of Double Jeopardy in 1999 I had reached the 'up' with which I could no longer 'put'.
"I will always remember this because Barbara Walters was to my right and I wondered if, on an unconscious level, having a powerful woman standing near me helped inflame my own audacious courage.
"Because I started to go at him and I was getting ready to call him out in front of whoever happened to hear, and he knew it and he said 'You know I'm going to let you out of that little deal we made' and I said 'You do that, Harvey'."
The full interview will air on BBC World News and the BBC News Channel on January 15.